Welcome to St. Simons Christian Renewal Preschool, a full time preschool ministry of St. Simons Christian Renewal Church. We are honored and thrilled you have chosen us for your child. As your child enjoys creative, meaningful activities and play, it is our aim that he or she will delight in our program, make new friends, and develop into the person God created him or her to be. 
Our heart and purpose is to be a blessing to our community as we show the love of Christ to children and their families. Our goal is to train children in love, respect, and values, teaching them the fundamentals of preschool in the highest form of early education in a Christ-centered environment. We desire to care for children in a way to reinforce God's love as to encourage healthy and well-rounded growth. 
We are a Bright From the Start licensed program, meeting and exceeding all standards set forth by the Georgia Department of Early Care and Learning. Our goal is to provide a nurturing, loving, excellent educational Christian environment where each child can flourish, preparing our future leaders of tomorrow. Physical, social, intellectual, and spiritual preparation will help children succeed in kindergarten and beyond. We work to help children understand that they are each a special person, created with individual talents, gifts, and personality.
We offer an environment that enriches and encourages development in large and small motor skills, personal and social skills, language, reading, number concepts, writing, art, and music. As we concentrate on teaching the whole child, we endeavor to usher in a love for learning, a love for God, helping each child to develop and grow intellectually, spiritually, mentally, and emotionally into the person God has created him or her to be. We realize that childhood is an open window to develop literacy, creativity, knowledge, and critical thinking. To this end, we offer your child an educational, creative, safe happy place where learning is fun!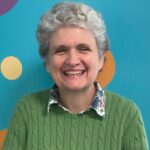 Director of State Records